The tie&tease : Wonders of Being Flogged
I am Kitty, a dominatrix therapy in London, I offering different bespoke session for different clients.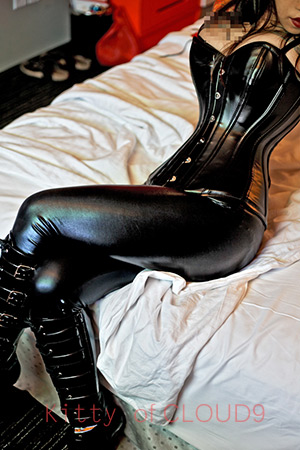 I like to experiment with my clients to find out exactly what they like.
One of my clients wanted to try out some new techniques so he came to my Paddington apartment to see me. Being a domination escort, I get to wear some interesting clothes. That particular time I was dressed in black rubber, including a brazier, thigh high boots and hot pants. I had on my favourite gloves and matching collar. My hair was tied up in a high ponytail and plaited. He loved my outfit. He said I was his fantasy woman.
I commanded him to follow me into my living room. I opened my cupboard of tricks and showed him all of my special toys. We discussed some of the items. He liked the look of the brown suede flogger. I let him hold it. He stroked the soft sued and ran his hand through the long tassels. He flicked it against his hand and smiled at the burning sensation it gave him as it made contact with his palm.
We discussed how he would like to build up to using it. I didn't want to overwhelm him with too much on his first go. We agreed that I would start with gentle spanking with my hand and then slowly add the flogger once he was ready.
He chose his restraints from the cupboard – leather wrist and ankle straps. He lay down on his front on the silk sheets of the bed and stretched out in a star shape. I fastened the straps tightly around each wrist and then moved down the bed to restrain his ankle. I told him not to move or make a sound unless it was to use our agreed safe words and began to introduce him to wonders of being flogged.
Enjoy my tie&tease today, available only in London Cloud9.