Baby Makes Dreams Come True
Baby is a new masseuse that works with us now for almost 10 months. She came as a newbee, but we immediately saw the beauty, the charm and above all her talent for sensual massage. She did a quick massage course to learn the basics and was further guided into the art of sensual touch & tantric massage by our most experienced top masseuse Pink.
Within a month Baby had built herself a group of repeat customers and that group kept growing ever since.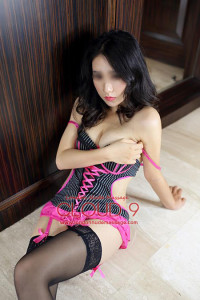 Every now and then Baby is already fully booked days in advance by customers who have experienced her erotic massage skills and come back for more. One customer, an expat from the USA based in London for 5 years, one day called us spontaneously and told me 'Baby is my favourite masseuse till my last day in London". I was impressed and happy.
If our customers are happy, we are happy. Happiness is what life is all about, and relaxation does help to be happy.
We never send out any unsollicited emails or sms, but always ask our customers upon making a booking to voluntarily send us their feedback by email or sms.
Here is a some of the fantastic feedback we have received.
These simple comments confirm that Baby is a true representative of the CLOUD9 Experience.
04-09-18: Customer in Chelsea Bridge hotel, by email:
I should like to let you know what a wonderful dinner/ massage evening I spent with Baby on Monday. In addition to the usual qualities one expects from your masseuses, Baby has a vivacious and passionate personality along with great intelligence.
In every sense, spending time with Baby was a delight and a pleasure!
Thank you Baby for a fantastic evening!
11-09-18: Customer in Private residence in SE2:
Excellent. Thanks
24-11-18: Customer in Sofitel London St. James:
Good
22-12-18: Customer in The Hyatt Regency, Portman Square:
Excellent. I always dreamed of having a fully nude erotic massage when I was in London, Never had the courage to call. Untill last night. It was the best experience in my life. Baby made my dreams come true. Can I book her again tomorrow?!
21-02-19: Customer in The Claridge's, Mayfair:
Excellent
As you see, Baby does a fanatstic job. Above that she is a great peronality and one of the most lovely girls to work with. Thanks Baby, we all love you!
Baby is based in London Paddington area, if you would like to meet Baby and have a wonderful happy ending massage in Paddington or any other place in London, just directly call us on 07918 113 143 – we will arrange for you.